Tickets can be purchased at the door - cash only.
General Admission: $20
SARTA Members: $18
Seniors: $15
Don't you hate service fees? We do, too. Brownpaper ticketing charges purchasers $0.99 plus 3.5% of the ticket price. But you won't see these fees. Asymptotic Productions is picking them up.
Tickets available now through Brown Paper Tickets.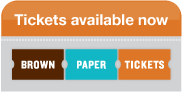 Limited discount tickets will be available through Gold Star. Coming Soon.